News
[Event has ended] Notice of Target Media Forum 2015 Exhibition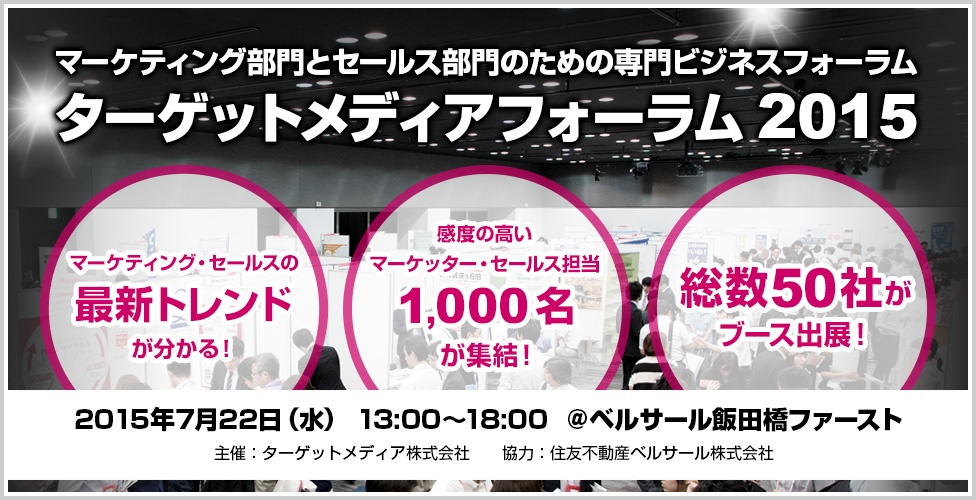 Our life style design was decided to exhibit to the "Target Media Forum" to be carried out in 7 month 22 day (water). This forum, solutions media tool vendors that are attention in advertising and marketing · IT industry is gathered, will be the opportunity to make information gathering and business meetings in various fields. In our company, we attract customers, of course, I will inform you of your web improvement services based on the web strategy.
Involved in WEB and SEO, and "that it wanted to little heard", such that "you are wondering from the usual, because folding full-time consultants and also sprinkled latest trends, by all means, feel free to visit us to booth Please not.
● Dates
2015 year 7 month 22 day (Wednesday) 13: 00 to 18: 00
● Venue
Sumitomo Realty & Development BELLESALLE Iidabashi First B1 (Bunkyo-ku, Tokyo Koraku 2-6-1)
● participation fee
1,000 yen (pre-registration person, free person who has an invitation)
※ (I will present a free invitation ticket to those who wish)
● The details Application
http://www.marke-media.net/forum2015/outline.php
※ pre-registration (sign up the day before) is, please proceed from the above URL.
※ If you contact us, we will send the invitation.
[From the target media forum 2015? ]
Target media forum 2015 is a professional business forum for the marketing department and sales department. The exhibition, which was intended for the industry, boasts the industry's largest, 1 degree a year, while half-day of holding, it is a major event to mobilize a number of people exceeding the 1000 name. With only booth, the latest marketing and sales related services and only a niche service many exhibitors that are not found here. We will show you without leaving the company's know-how and case services more!
<Exhibition contents introduction of lifestyle design>
[And attract customers of the web site, to companies like having problems with your and strategies]
And guidance for your support services from the WEB strategy to production based on customer to "business strategy".
Also, do the SEO measures to the designated keyword "technology only" rather than, we guide you through the sustained support services directly related to revenue and goal. Involved in WEB and SEO, "a little thing you wanted to hear," and, like that "you are wondering from everyday, why not try to talk with full-time consultants and also sprinkled such as the latest trends?
Such as the service of your questions and sites attract your worries, because it is we will correspond our state-of-the-art employee, please visit us on this occasion.
[Guidance services]
WEB strategy design
Attract customers, promotional support
SEO Consulting, SEO measures Service
WEB production and development
Web consulting
The other, also we have heard consultation tailored to the needs of our customers.
[Sponsored]
Target Media Co., Ltd. (Location: Shinjuku-ku, Tokyo President: Satake Masaomi)
For further information, please contact
Lifestyle Design Co., Ltd.
Contact: Yada Torii
Tel: 03-6418-8111 FAX: 03-6418-8296
(Hours: 10: 00~19: I except 00 / weekends and holidays)